So, I've been living in Florida for a little over a year and still have not found a local source of roving. Luckily, there is the internet and, more importantly,
Etsy
.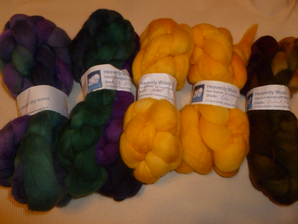 I found these lovelies on
Etsy
.
HeavenlyWools
is out of New Zealand. It was my first time buying from outside of the United States. The roving was also a new fiber for me. The purple/green roving, on the left, and the darker roving, on the right, are New Zealand Half Bred.
The two yellow rovings in the middle are New Zealand Merino which was originally a Spanish breed. I hadn't, as yet, tried spinning either of these two breeds before when I bought them.
These two rovings are also New Zealand Merino. All of the rovings came in 100 gram braids. I double ordered the yellow, pictured above, and the rust, here on the right. I also managed to spin the roving on the left. It is my first completely finished skein since moving to the Sunshine State.

I have to say that this skein spun up fast. I was trying for a worsted to chunky yarn and I think I managed. I actually downloaded an app to track how much time I spent spinning this skein. On a drop spindle, I can spin in short chunks as my time allows which I love. It is very portable. Since I don't sit and spin for extended periods of time, however, I never know how long I actually take to spin a skein of yarn. I started this roving on April 19, 2015 and finished the completed skein on May 7, 2015 which is 18 days on one skein of yarn.
So, I downloaded an app onto my phone called
aTimeLogger
from
GooglePlay
and kept track while I was spinning this skein. I was very surprised that it took me about 2 hours to spin each single. Overall, plying took about 20 minutes. Total time spinning and plying was about 4 hours and 20 minutes. I'm not sure if that is fast or slow. I know it is fast for me. I get faster and more consistent with each skein that I spin. For you techie types, 100 grams of roving turned into 106 yards of 2 ply yarn at 7 wraps per inch. I'm still learning what that means, but it sounds impressive that I know that information.
My spinning has dropped into the very fine zone where all I seem to spin lately is super thin singles. Which, I think is great because those singles are very consistent. Unfortunately, when I tried to spin skein bulkier, my consistency went out the window. There are some definite thick/thin spots in this yarn. The coin on the spindle in each picture is a dime for reference. Overall, I think the finished skein turned out pretty well. I'm thinking maybe a shawl is in it's future. A small one. I'm not sure how far 106 yards will get me.
I'm really impressed with the softness of this Merino. I'm not sure how it differs from Merino here in the States. I think it is the softest wool I've spun to date.
I will have to find some homegrown Merino to compare. This particular Merino roving had a nice long staple length which was a dream to draft. It was like spinning a soft cloud. I actually managed to some air into my singles. I'm still learning, and its a process. I'm having fun with the process.
For anyone wanting to look at the technical details, this skein is now in handspun stash on Ravelry under the name Fall Medley 2 Ply.
I tried answering all of the techie stuff, but, I'm still learning, and a few of things had me stumped, possibly technical stuff for those skeins spun on a wheel.
Happy Spinning