So, anyone who knows me well, knows that I'm a procrastinator in a BIG way. I sign up, volunteer and/or generally commit myself to more projects than I can realistically manage to finish. Then, I procrastinate. There is always something more important in any given moment than what I should be doing. I wait until the last minute and, then, BAM, I have only a few days until my deadline. If I'm really lucky, I may have a week.
Every year, I say that everyone, family and friends, will get a handmade Christmas present from yours truly. Sometimes, I even write down a list with names and, actually, attach an idea of what pattern or project said name will get. I might even pick out some yarn and get something on the needles. I might even knit or crochet a bit every so often.

Next thing I know, November pops up on the calendar and I wonder where all the time went that I could have spent knitting or crocheting. I rush to finish whatever project I have on the needles before my December deadline. This deadline usually involves looking up the shipping deadlines for various postal services because, of course, I don't live near most of my relatives. Everything has to be shipped.

I am always surprised when December 24 rolls around and I still haven't finished gifts. I will still be knitting up until the New Year and sometimes, (GASP) still be working on Christmas presents in March. I think I have, possibly, shipped out a Christmas present as late as April or May one year. I NEVER get everything on my list completed. Most years, I rush around shopping online to make up for the lack of handmade gifts.

This year, I have actually begun my Christmas knitting early. Yes, I know, that is a new concept for me. I am determined not to procrastinate this year. I have made my list. It is a long list. As it stands, at this moment, I have 24 names on my list. Yep, 24!!! There are even some relatives on the list that have never gotten a gift from me, of any kind, ever.

Some names on my list have patterns listed next them. I have even joined a Christmas Knitting group on Ravelry to get some support in my quest to actually finish everything on my list by Christmas. And, guess what? On May 10, 2015, I cast on for my first gift. No procrastinating, I just did it. On May 16, 2015, I actually finished, yes, I said, FINISHED, my first gift. One down, only 23 more to go.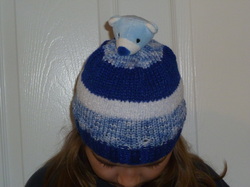 Admittedly, I started small. A lot of hat projects are on my list. I'm not, totally, unrealistic. All of the nieces and nephews are each getting hats this year. And, each one will be different.


I found this adorable kit at my new LYS here in Florida.
The hat is called
Top This! Hat by DMC
and there are 12 different kits.
I have other hats planned for those kids on my list that are slightly older and may not appreciate a hat with a cute furry animal on the top. I have afghans planned for a few of the people on my list. Most will be knit in squares and joined together later. I like small, portable projects. I have one complicated afghan on my list that will be a big project. In fact, I had to order the yarn for it to make sure I could get all of the yarn I need, plus a few skeins, in the same dye lot. My order should be delivered in a couple of weeks and I will cast on as soon as I get that yarn as it will take me a good six months, maybe more, to knit it.

And since, probably, most likely, NONE of my relatives read my blog, I think it will be safe to keep the blog updated on my progress this year. I plan to do whatever it takes to keep myself motivated. I want a procrastination free zone this holiday season. This year, it will be Christmas at my house all year long.

Keep you posted.